Today, Erie County Legislator Kevin Hardwick, D – City of Tonawanda, announces his endorsement by Senate Majority Leader, Senator Chuck Schumer, and Senator Kirsten Gillibrand. New York's Senior Senator, Schumer has had a long career in public service beginning in the New York State Assembly in 1975. He was elected to to the United States Congress in 1980 and was elected to the United States Senate in 1998. He has served as Democratic Leader since 2017 and Majority Leader since January 2021. Gillibrand was first elected to the House of Representatives in 2007 and the Senate in 2010, after being appointed by Governor Paterson to fill a vacancy in 2009. She has been a tireless and outspoken advocate for women's rights and was a Democratic candidate for the Presidency in 2020.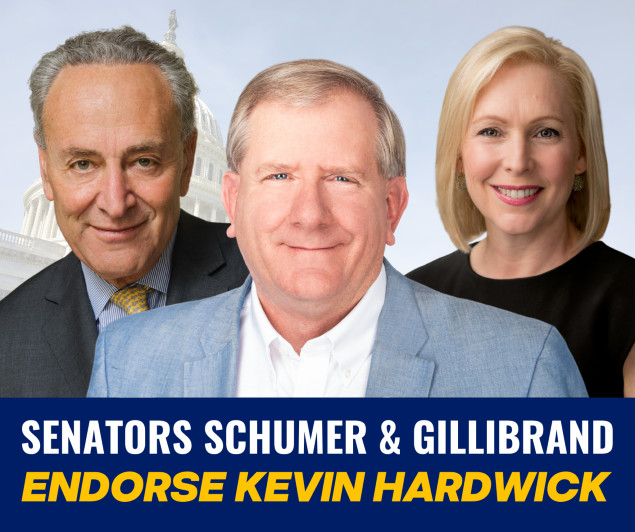 "I am proud to endorse Kevin Hardwick for Erie County Comptroller," said Senator Schumer. "Over an accomplished career in public service, Kevin Hardwick has shown he has the temperament and intellect necessary to bring professionalism and integrity back to the Comptroller's Office. His expertise in governance and public policy is only matched by his tireless dedication to his students and his constituency. The residents of Erie County will be in good hands with Kevin Hardwick as their financial watchdog."
Senator Gillibrand added, "I am also proud to endorse Kevin Hardwick for Erie County Comptroller. He is trustworthy and dependable, someone who can lead the comptroller's office with the competence and accountability necessary to oversee the county's finances. His lifelong dedication and commitment to public service is a testament to what he will do as the next comptroller." 
Hardwick added, "I'm grateful for the support of our Senators in my campaign this year. They have been steadfast voices of reason throughout some very tumultuous times over the past 5 years, and the United States is a better nation for their leadership."
Kevin Hardwick is the endorsed Democrat running for Erie County Comptroller in the 2021 election; election day is November 2nd, and early voting is well underway. To find polling locations, please visit www.elections.erie.gov. Any of Erie County's 38 polling sites can be utilized during the early voting period, which ends October 31st at 9 pm. Election Day voting must take place at your designated polling site.